Pike Brewing Releases NEW Fall Seasonal: Layer Up Double West Coast IPA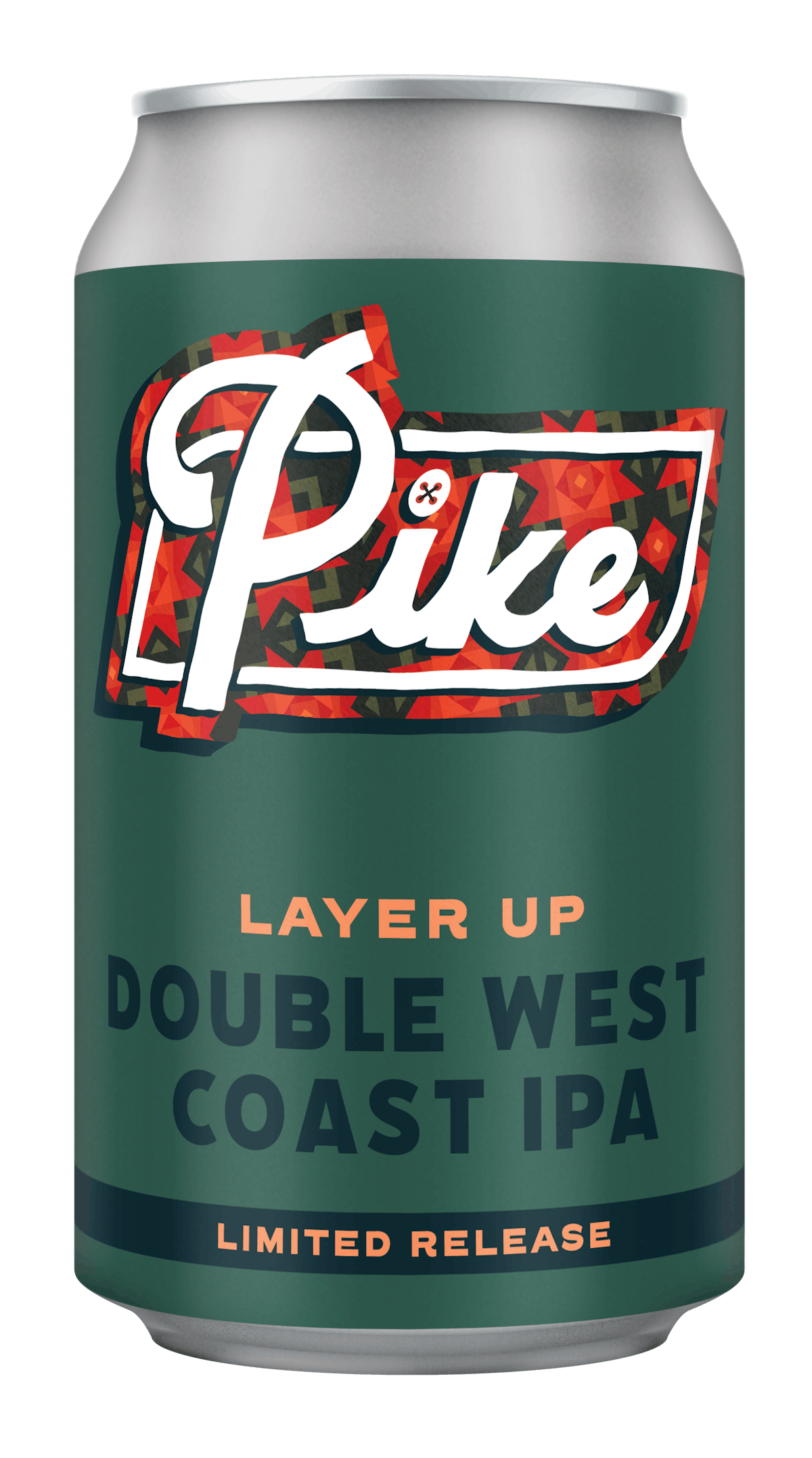 September 20, 2023
SEATTLE, WA – As the leaves start to change and the air becomes crisp, beer enthusiasts and craft connoisseurs alike have something new to celebrate this fall. We are thrilled to announce the highly-anticipated launch of our latest creation, the Layer Up Double West Coast IPA.
With a commitment to pushing the boundaries of flavor and crafting unique brews that capture the essence of each season, we're excited to bring you this exceptional addition to our lineup. Layer Up is born from a blend of innovation, craftsmanship, and an unwavering passion for brewing.
Key Highlights of our Layer Up Double West Coast IPA:
A Unique Autumn Experience: Layer Up captures the essence of fall with its rich, robust flavors and a distinct hop profile that showcases the bounty of the season. The modern West Coast IPA is filled with uplifting fruity and dank flavors along with notes of candied citrus, pineapple, and dank sticky resin and a mid-palate linger plus dry finish. This beer is all about those bright summer day notes paired with a higher ABV punch for those chillier nights ideal for layering up!
Double the Flavor, Double the Fun: Layer Up Double West Coast IPA boasts an impressive 8.5% ABV, making it a beer to savor and share with friends as the days grow shorter and the evenings longer.
Balanced Complexity: Crafted with a careful selection of hops and a meticulous brewing process, Layer Up strikes the perfect balance between bitterness and aroma, offering a harmonious drinking experience that appeals to both seasoned hopheads and newcomers alike.
Artful Design: Our Layer Up packaging features stunning artwork that reflects the Pacific Northwest's colors of autumn, making it a visual delight as well as a flavorful one. The can's evergreen base reflects lush, emerald green pines, while golden yellow and fiery red warm accents strike the eye.
Limited Release: Layer Up Double West Coast IPA is a limited-release brew. So, be sure to grab yours while supplies last, and don't miss out on this seasonal sensation.
"Layer Up is a labor of love that captures the spirit of Pacific Northwest fall in every drop," said Leslie Shore, Pike Brewing's Head Brewer. "We've carefully crafted this brew to take you on a journey through the transition of seasons, with layers of flavor that unfold with each sip. It's the perfect companion for cozy autumn evenings and gatherings with friends."
Layer Up Double West Coast IPA is available through October at select retailers and Pubs throughout the Puget Sound Region and also as a six pack or on draft at Pike Pub, Pike Fish Bar and Pike Taproom Ballard.
Pike's seasonal beers are available at Pike Brewing, Pike Taproom, local bottle shops, and select retailers throughout the Pacific Northwest.
ABOUT PIKE BREWING

Pike Brewing is a Seattle staple, crafting beers that are a reflection of our community — bold, diverse and dynamic. We craft memorable experiences to connect our community! As a pioneer in the industry, we have proudly been brewing since 1989. Over the years, we have partnered with many like-minded local non-profits through fundraisers and collaboration beers. Stop into our historic Pike Pub located next to Pike Place Market, Pike Fish Bar or Pike Taproom Ballard to enjoy a pint with a meal, or find our beer on shelves ready to be paired with your next adventure.
Pride in our home, pride in our beer. Pike Brewing, Landmark Craft. Pike Brewing is located at 1415 First Avenue in Seattle, Washington.